Oh, my goodness. What a week! I am home again for a few days. We left on March 18th, and went to my parents' house where Briana lives. My sister and 2 nieces were there visiting as well, so we enjoyed Wed. night and Thurs. visiting. Thursday night was Briana's opening night. James and I went, and it was WONDERFUL! I loved it, and can't wait to go back. (I plan to go at least 2 more times. Since they gave us 5 free tickets, and the younger girls are not going, I can go twice for free!)
The musical is set in the Shenandoah Valley of VA during the Civil war. It is about a family trying to stay out of the war. The first half is fun, and the 2nd half is sad.
Briana had the opening dance solo, so she was the first one out on stage. I was crying before she ever got out there. : )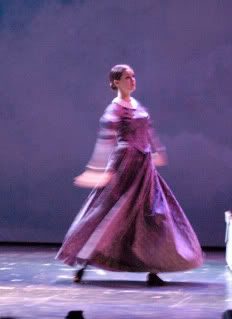 Opening number~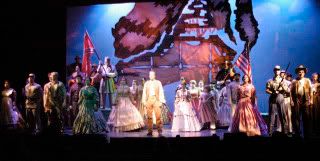 Briana is on the right next to the flag bearer~
In church~
Fire scene~ Briana is on the left beating out the fire.
Next to Lovin' I Like Fightin' ~ fun song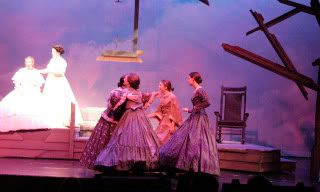 Preparing for the wedding banquet. Briana is on the right holding the tablecloth.~
1st battle scene. They are being shot at, as they run across the stage, screaming. : ) Briana is in the center.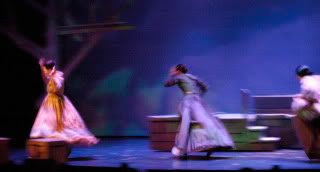 Second Battle scene. Briana is symbolic of the Union. Standing in the midst of the war.
See the Confederacy (at the bottom) is dying.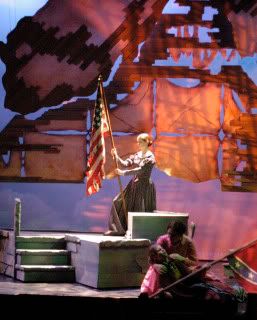 These guys all around her (4, I think) are shooting blanks from real guns. It's very loud!! She still jumps every time at the first shot. LOL.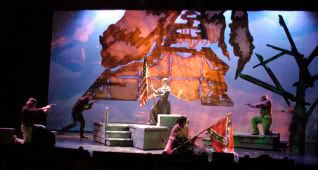 The Union stands and is victorious, though ragged and tired. Briana is waving the flag in victory.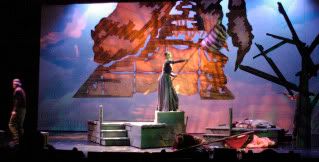 2nd dance solo~
This man in front of her has the lead role. He has been in numerous tv shows, and has worked with many famous actors, including Tom Cruise, Carol O'Conner, Andy Griffith, etc.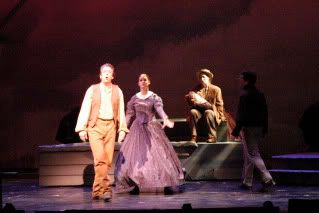 In this musical, Briana was chosen as what they call "The Dream Child". They have someone in every musical who is symbolic and "the chosen one" haha. That's why as all of the families are being reunited after the war, she is alone in the center, as she watches the father in his grief.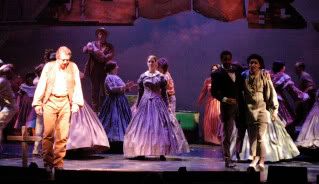 Yes, I am just slightly proud of and for her. This has been a dream come true for her. One that she was a little afraid to dream. This is a great theater, that does some great productions. In fact, they were the first theater licensed by Disney to do Beauty and the Beast. I am also thankful to my parents who have given up some things to allow her to live with them this year.
Tomorrow (Sat.) will be the 5th show of Shenandoah, and she has 32 more to go before it closes on June 14th.
Thanks for letting me share my excitement!