Thursday, we decided spur of the moment to go to the new corn maze here. This is the first time our county has ever had one. Marissa and Daniella had riding lessons at 1:30. They got in, grabbed a snack, and we headed over. Well, Mom here remembered to make sure what time they closed, but never thought to look at what time they opened! Thankfully, we were only 10 min. before opening. There was no where to park outside the gate, so we pulled a little further up the road to a country church parking lot. Right next to it was the church cemetery, and James and the little girls spent the time walking through the gravesites reading names and dates. A little history on the side!
They did a good job with the maze, and it had a neat scavenger hunt~items that had to be found in a certain order. The hayride was fun, and even went through a section of woods. They called it the Enchanted Woods, and had hidden stuffed animals in the trees along the path. Even the adults had fun trying to spot them all! The day was pretty, though a little overcast, and the temp was great.
Finding a clue
And, just in case you notice the black bands on Marissa's wrists, those are motion sickness armbands. She gets sick on all of our curvy backroads.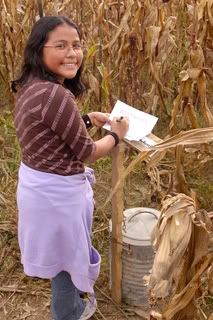 Ring the bell when you finish the maze.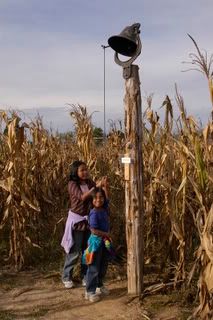 Playing bean bag toss

The hayride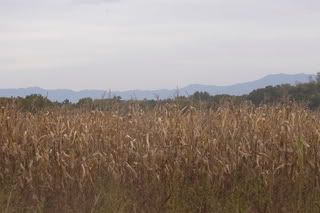 The Pumpkin Patch